---
article supplied by locktrader.co.uk
Garage Door Security and Locks.
High levels of home security cannot be achieved without considering garage security. Garages are now one of the most popular break-in points for homes, as they often have low protection and contain pricey valuables. Spending some time to add up the value of all items stored in your garage is extremely worthwhile, then take a look at the type and cost of the locks protecting them ask yourself, 'is it time to upgrade your security?'
Traditionally garages have a locking handle that is fitted on the outside in the centre of a garage door. These handles use bars or cables on the inside that lead to each side of the door and lock into the door frame. The simple cylinder locks found in garage doors have proved weak against attack.
Due to their large size, garage doors can be difficult to secure, special garage locks and security items are available, all of which can be fitted by any competent DIYer, it is therefore recommended that garages are fitted with specialist garage locks.
Standard garage doors in the UK are of the 'Up and Over Style' made from metal, fibreglass or sometimes wood, where the door is lifted into the open position. These allow easy access to garages while the door will not compromise internal storage space. Wooden hinged or sliding garage doors can be used, these offer contemporary looks but are bulky and require lots of maintenance.
Locking garage bolts: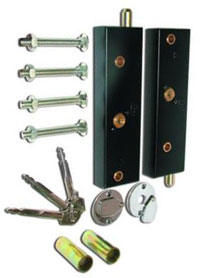 The most popular type of garage lock is the Garage Bolt Kit (see right). This kit contains 2 locking bolts that can be fixed to each side of a garage door either horizontally or vertically. The two bolts are supplied keyed alike, same key operating both bolts, this makes the locking and unlocking process straightforward and avoids having to carry multiple keys for the same door. Fitting of these garage locks is also very simple, supplied fixing bolts are used to hold the locks in place. The kit also contains bolt sleeves to accept the extending bolts when in the locked position and escutcheon plates to protect the external key holes.
Locking garage bolts will increase the security of your garage, however they offer very little visual protection. An opportunist thief will walk past a garage or home that looks secure, opting for one that looks like an easy target.
Garage defender: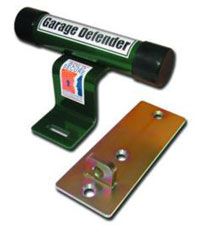 Another type of garage security device is the beefy looking garage defender. This lock comprises of a large arm that sits in front of the up and over garage door which is locked to a base by use of a padlock. The base is screwed to the ground underneath, if space permits and in front of the door, the defender's arm is then placed on top of the base, thus restricting any movement of the door.
Garage defenders are a great way to secure a garage, they offer excellent visual protection as well as physically securing the door. However, the locking arm is fairly heavy and awkward, making this particular lock a pain to use on a daily basis.
Extension of home alarm:
If your house is protected by an alarm system, this could be easily extended to cover the garage as well. Door sensors could be placed on the main garage door as well as side or rear pedestrian doors. An internal PIR sensor could also be used. Wireless home alarms offer great protection with easy installation, but would need to be disabled before access to the garage, which might mean a trip to the house before a car is put away.
Other garage door locks:
Squire has recently created the Garage Guard, a round locking device that fits over an existing 'T' shaped garage handle. This stops anyone gaining access to the vulnerable garage handle, but does not restrict access to the inside locking bars or cables that are connected to the handle.
For thicker wooden garage doors, standard mortice locks can be used. For double garage doors, a rebated mortice lock (near right) should be used in the first door that is opened alongside ironmongery bolts (far right) that are fitted to the top and bottom of the second door.