---
Heights for electrical sockets etc.
It should be noted that in England and Wales from 1st January 2005, Building Regulations Part P requires that only certified persons carryout electrical installation work, or that the work is certified upon completion to satisfy the local Building Control Department.
All details regarding electrical wiring and installation on practicaldiy.com are for information purposes only.
UK Building Regulations Part M (Access to and use of buildings) states that wall mounted switches and socket outlets for power, lighting and other equipment in new dwellings "..should be located so that they are easily reachable."
Part M of the Building Regulations (section 8) does not actually specify the required position but does go on to suggest that in habitable rooms this will be achieved by mounting the switches etc. between 45cm and 1200mm above the floor level (see below). Unless the dwelling is specifically designed for a person with limited reach, these requirements do not apply in garages and kitchens.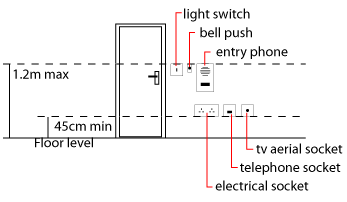 These rules do not apply to replacement switches/outlets nor to new switches/outlets in extensions to a dwelling, or a dwelling which is being materially altered unless the dwelling previously complied with Part M – however, there is nothing to prevent you from applying these regulations should you so wish. Any alteration to an existing dwelling must not make it less satisfactory than it was before.
Sockets above work surfaces
Where socket outlets are positioned above work surfaces or other obstructions, there needs to be sufficient clearance to minimise risk of damage to the cable etc. Although no distance is defined, a clearance of 15cm below the socket is recommended as a minimum (see below).